5 days is indeed a very short timespan to explore any place, but if you decide to go and visit the country on a specific regional basis, then a five-day-tour is more than enough to dig deep into a certain region of Vietnam. Keeping in mind the level of fatigue an average traveller faces after a journey by air, this itinerary is designed only for the northern part of the S-shaped country, so that your tour is not a haphazard concoction of sites visited in a rush. So, from an impossible journey to plan, this itinerary might help you have the most unforgettable time during your stay in Vietnam during those 5 days.
Northern Vietnam: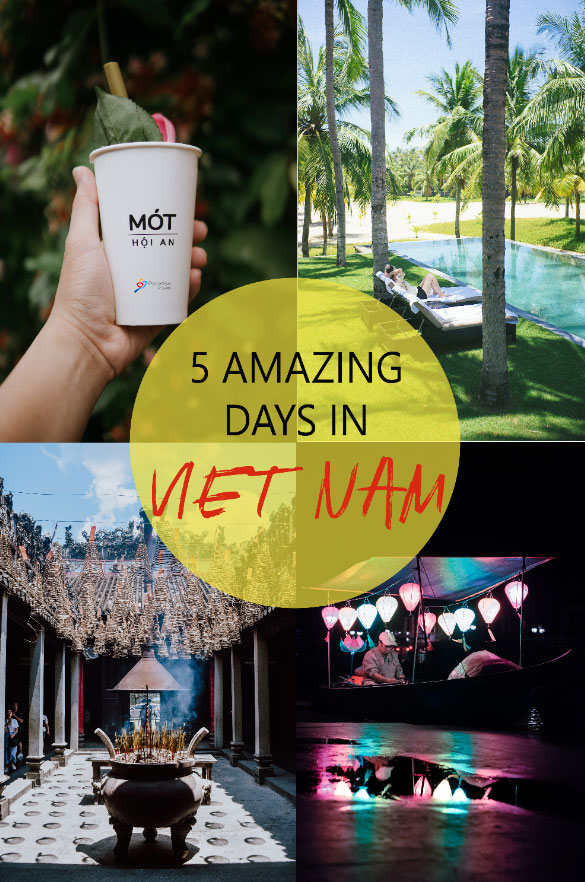 Day 1- Arrival at Hanoi (spend the night in Hanoi) :
If you intend to visit Northern Vietnam, then you have to book your flight to Noi Bai where you would land in Hanoi International Airport. After you land, there are a lot of adventures in stock for you in this division of Vietnam. In a short trip, you can catch a glimpse of many Vietnamese showcases. In a short 40 kilometre drive to Hanoi from the airport at Noi Bai, you can see the most ancient capital city of Vietnam in your drive, notable for its culture and palatable street food. Alongside all the cultural and gastronomical delights, there are a number of historic sites and museums that showcase the people of Vietnam and why they are the way they are at present. Some of the places which are definitely not to be missed at all are West Lake, Opera House, Hoan Kiem Lake, One-Pillar Pagoda and the Temple of Literature. These places are simply exquisite and you can definitely learn a lot about the Vietnamese culture here.
The world famous bay of Halong is situated around 180 kilometres from Hanoi and can be reached on a cruise easily. The tour takes up only one day and the cruise departs at around 8 o'clock in the morning. The time required to reach Halong is approximately 3 and a half to 4 hours on the cruise. Lunch is served on board the cruise which includes a sumptuous seafood platter, post which you are taken to the Heaven Palace Cave which is also known as the Dong Thien Cung. You can return back at Hanoi by 8 in the evening.
In the course of day 2, you could also choose to go kayaking in the beautiful limestone karsts, visit caves and have a chance to swim in the cool waters (only during March to October). If you are a connoisseur of luxury, you could opt for another cruise which would tour you the Hang Sung Sot or the Surprise Cave. It is a huge cavern spanning around 12,000 square metres, situated deep into the Bo Hon Island which is also a major heritage zone of Halong.
The Titop island is another notable tourist attraction in the islands of HaLong Bay. You can climb up the stairs and reach the top of the islet from where you can catch a 360 degree glimpse of the sea. Along with a crescent shaped beach, it is known for its white sand and blue waters, it is a beautiful place to relax and unwind.
Situated around 150 kilometres away from the city of Hanoi is the serene and calm town of Mai Chau. The tranquility of this place is remarkable and is a known tourist destination in Northern Vietnam. This area is of a special interest among tourists and travellers alike because of its simplicity and authenticity of life which the people of Mai Chau have adopted. Along with this simple and calm surrounding, you can see the most picturesque montane views surrounding the place. If you plan on staying an entire night, you have to get a homestay which allows you to spend the night with the locals and get a taste of their lifestyle and you can have a taste of their local cuisines along with a very interesting insight and you can immerse yourself  in the Vietnamese countryside. This town can be visited for 1 or 2 days, according to your own convenience.
Sapa is a small but beautiful township in Vietnam, around 400 kilometres away from Hanoi. The ideal way to go to Sapa from Hanoi is to take the train at night which departs from Hanoi at around 8pm or 10pm. It is an immensely popular base for trekking and hiking and it looks over the rice fields in the valley of Muong Hoa. This place is situated very close to the Phan Xi Pang peak that rises up to 3143 metres and can be climbed up through a steep but guided walk. You can purchase the local handicrafts made by the Hmong, Dao and Tay tribes which dominate the population of Sapa or if you feel the need, you could always rent a motorbike and go around the place.
Ninh Binh is a small quaint city located 40 kilometres away from the city of Hanoi. The Ninh Binh province is situated on the delta of the Red River of Northern Vietnam. Apart from all the fascinating scenery boasted by the place, it has the most intriguing landscapes in the Southeastern part of Asia, but unfortunately, a lot of travellers tend to overlook this place. It is also known as the "Halong Bay in Land" because of innumerable cliffs composed of limestone which is scattered all across the rice fields. The entire place is very calm, quiet and serene and gives of a very laid-back vibe. During your stay here, you can navigate your way along the paddy fields and reach beautiful pagodas and other attractions. All in all, the place is very much recommended in your trip to Vietnam
These were the things you could do and places you could visit during your stay in Vietnam, more specifically, in Northern Vietnam only with Pickyourtrail. With picturesque views, serene places yet a hubbub of culture and cuisine, Vietnam is a beautiful country inside-out, a must-visit with spectacular Vietnam packages.